Debutify is one of the best-looking and highly converting Shopify themes that is available on the market. Debutify offers a Free version of the theme and a premium version that comes with pre-bundled plugins that take it to the next level.
Debutify claims itself as the World's #1 Free Shopify theme out there. Can a free version of the theme offer so good features? Let's find this out in this article.
So, in this article, let us see how debutify performs as a free theme and does worth all the hype that it claims and also, whether to buy that premium bundle or not. Let's get into the topics right away!
About Debutify:
Debutify is one the best premium looking free themes for Shopify developed by Ricky Hayes & Raphael Bergeron in 2019. This theme was primarily focused on dropshipping stores which was the talk of the town during the launch of Debutify.
In the earlier stages, Debutify had a rocket push on the market due to its highly appealing design and very professional transitions, and also the premium version bundled a ton of features that helped the dropshipping business to achieve a conversion rate up to 3.86.
Debutify is also featured on

Why Debutify – The Key Features: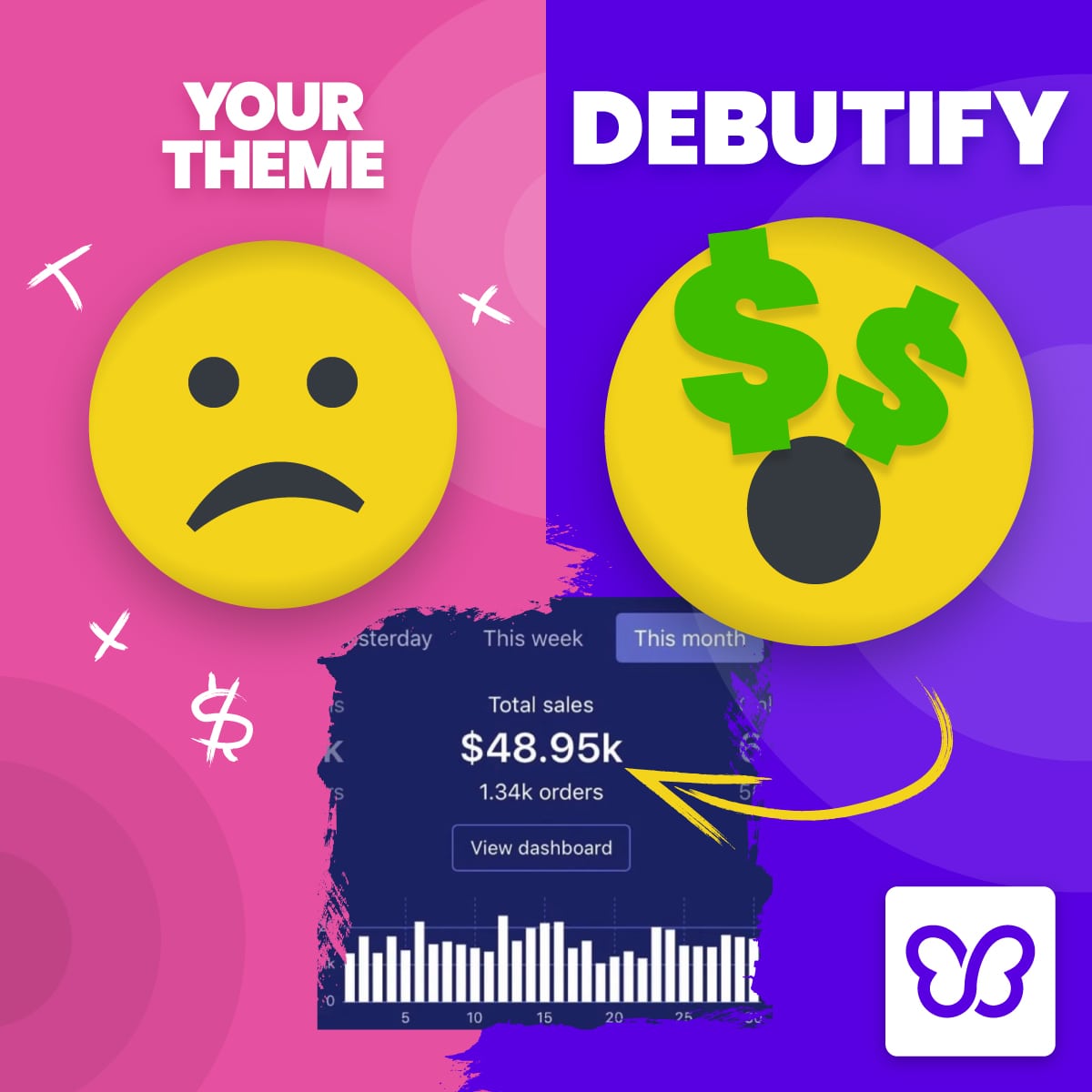 The main key feature of Debutify is what makes the best theme for Shopify. The free version is not just a marketing gimmick and it does offer a wide range of features that on the whole offer a stunning & professional design at no cost.
The main advantage of the free version of this theme is that they offer a very easy installation process, and you don't even need a credit card to download it. Give yourself a shot at the World's #1 Shopify Free theme ever on your store.
Let's review the key features of the Debutify Theme (Free version) and how will it help your business to explode, in a very positive way.
#1 Completely Customizable:
The Header, Footer, and Slideshow are completely customizable which allows the user to make the website aligned to the service they are catering. For example, a child clothing store uses a blue/pink tone theming for more conversion.
#2 Professional Design:
The design elements used in the theme are very professional and it does not even look like a free theme even by a single percent.
#3 Works with other Plugins:
Be it any plugin or any payment gateway, this theme works flawlessly and gets the job done. As far as the integration is concerned, you will notice zero difficulties.
#4 Auto Updates:
The theme gets an auto-update every time a new version is released and that too automatically. Even a few premium themes miss out on this feature.
#5 24/7 Support:
The customer support is always up and they are always right there 24/7 to help you with any queries that strike your mind.
Debutify Premium:
Convert Traffic Into Buyers With Battle-Tested Sales Hacks
Debutify being the best free theme has its premium version which comes bundled with a set of plugins that transform your store into a revenue-making machine with its state-of-the-art sales tactics that convert visitors to customers.
The Debutify Premium version comes with the following plugins that are quite worth spending few minutes at,
Add to Cart Animation
Cart Countdown
Cart Discount
Cart Goals
Collection Add to cart
Color Swatch
Cookie Box
Delivery Time
Discount Saved
Chat Box
FAQ Page
Inventory Quantity
Linked Option
Live View
Mega menu
Newsletter popup
Pricing Table
Product Tabs
Quantity Break
Quick view
Sales Countdown
Sales Pop
Shop Protect
Smart Search
Sticky Add to Cart
Trust Badges
Upsell bundles
Upsell Popup
Wishlist
Every feature is perfect to its name and offers the best action that you would require out of it. Each and every plugin is tailor-made and it's tested rigorously with eCommerce systems which makes it the best to be.
These features and plugins are however optimized for dropshipping. If you are someone who is having your website built for dropshipping, then this is one of the best options you have on the market and it's completely worth it.
Also read: Is Debutify Worth it? Honest and Clear Review [Jan 2021]
Debutify Pricing Structure:
Debutify is a subscription-based theme that gets updated every day and by paying this subscription, you get access to the new features, 24/7 support, learning materials on offer, and definitely the features that it caters to.
The Pricing table is given below,
We, personally at techvile, would recommend you to go with the Hustler plan which is the right balance between the features we need and the keeping the amount lesser spent. The above-mentioned price is at a 50% discount and applicable on a yearly subscription only.
Also read: Debutify Vs Booster, Finding the Best Converting Shopify Theme
Top Reasons you should buy Debutify Premium:
These are the key factors or the reasons to be considered for a Shopify theme according to our opinion which may be subjective as well. But, these points will make it easier for you to decide whether to go with debutify premium or not.
Let us keep this really simple so that it makes it easy for you to take the right decision.
Conversion Optimized:
The main objective of the Debutify Premium bundle is to enable the dropshipping business the pump that it needs on conversion with its best-in-class plugins. Some of them are,
Cart Countdown – Creates an urgency factor to the customers to hit that Add to Cart super easy and increases the conversion rate.
Trust Badges – Creates a big impact on the product page that makes the site look authentic and more trustworthy to close the deal with confidence.
Sales Pop – Automated sale popup that shows the previously bought items automagically that is super cool and looks real every time.
Delivery Time – This simple addon shows a tentative date by when the customer can enjoy the product in his/her hands that again pushes the sale.
Customer Reviews:
Don't trust my views alone, check out the product reviews here – Debutify Reviews
Thousands of success stories and positive reviews flooding on the internet is the best reason to look after and this theme has been tested already and people are making revenue out of it. This makes it super easy for you to decide, I hope!
Trusted by Experts:
Debutify, out of all marketing efforts remains to be the favorite theme of leading 7 digit revenue-generating drop shippers out there.
Conclusion:
With all enough information, you would be able to picture the Debutify theme on your current store or the upcoming store you are planning to launch. Well, the question – Should I buy the Premium or Free version does the job? remains unanswered.
Well, the answer would again depend on the business you are building. If you are into serious business, the current conversion rate is lesser, not getting enough sales, I would surely recommend you to go with Debutify Premium which brings more value.
If you are someone looking to use Debutify on Dropshipping Store, Print on Demand Store, or a Brand store, Debutify is the best theme so far to build your store with.
Also, do let us know what are your views on the theme in the comments below. Thanks for your time. Cheers!